Thompsons Lighting & Interiors was founded over 70 years ago and the current owners took over in 2015, moving to bigger and better premises in Larne.
Thompsons Lighting Heritage
JAMES THOMPSON WAS A LARNE MAN BORN & BRED WHO SAW AN OPPORTUNITY, AFTER THE WAR IN 1945, TO OPEN AN ELECTRICAL HARDWARE SHOP ON UPPER MAIN STREET IN LARNE, NORTHERN IRELAND.
James recognised the need for the local rural farming community to source electrical supplies in Larne and the surrounding areas.
At 47 years old James left his job as an electrician who worked at the Blue Circle cement depot in Magheramorne and opened "James Thompson" shop which also provided electricians to carry out the work. In 1952 James' daughter Margaret left Larne Grammar School at the age of 18 to accompany her brother, also named James, to complete the family owned electrical business.
In later years Margaret transformed James Thompsons focusing on retailing electrical products and household goods. Margaret then sold the shop to a local businessman named John McIlroy in 1993.
John managed the shop for 19 years and developed the products on offer, to include a huge selection of lamps (which most people call bulbs), and are still a main focus in the shop today.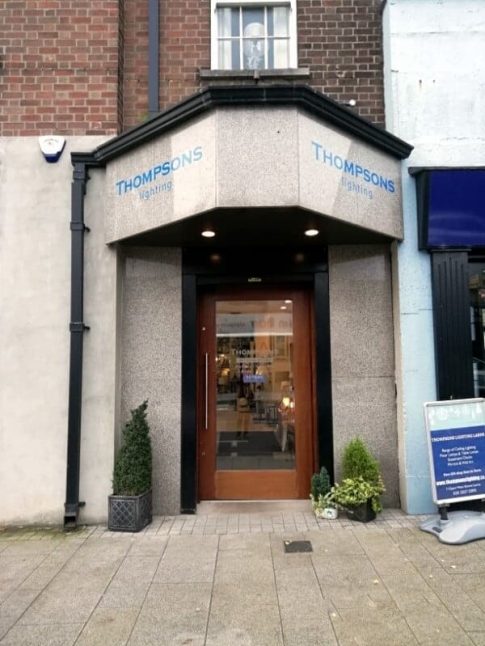 THOMPSONS IS KNOWN NOT ONLY FOR CUSTOMER LOYALTY BUT ALSO FOR STAFF LOYALTY.
Most of the employees have worked with the company for over 20 years, most remaining for the duration of their working lives. This serves as testimony to the vision James Thompson realised back in 1945. Thompson's has delivered a sustainable business stretching over eight decades.
THOMPSONS LIGHTING & HOME INTERIORS HAS BECOME A LANDMARK STORE IN THE LARNE AREA.
The Lighting, Homeware & Gift Shop is currently owned and managed by Derek and Irene McGookin from Gleno, who purchased the business from John McIlroy in December 2012. Reverting back to a family owned business, Thompsons Lighting has embraced online sales to ensure its survival for the future.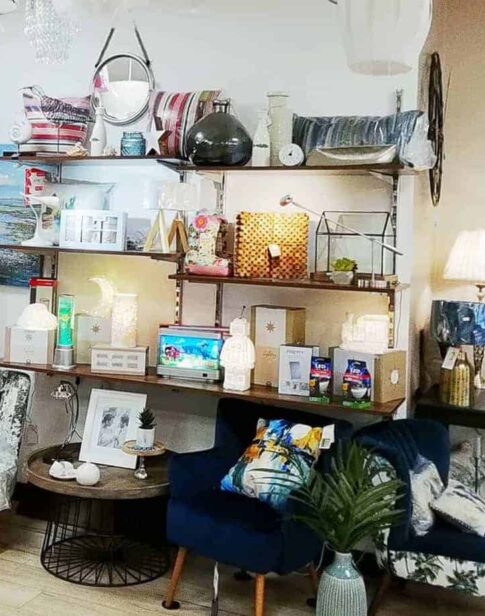 THOMPSONS MOVED TO A BIGGER & BRIGHTER PREMISES, OPPOSITE THE ORIGINAL SHOP (THE FORMER FIRST TRUST BANK BUILDING), IN 2015.
The move allowed us to accurately display our Light Fittings so customers could see them genuinely fitted and wired to view light output before purchase.
To compete in today's marketplace Thompsons has widened their product offer. We source Lighting and Home Accessories from more European suppliers which have a strong trend or Lifestyle design. This gives us the opportunity to source that something different, and we we stock a range of Eclectic Table lamps, unusual Ornaments and Novelty Lighting.
Developing our Home Interiors and Gift shop offer has increased our appeal to our existing customer base and gives us the opportunity to widen our appeal using social media such as Facebook.